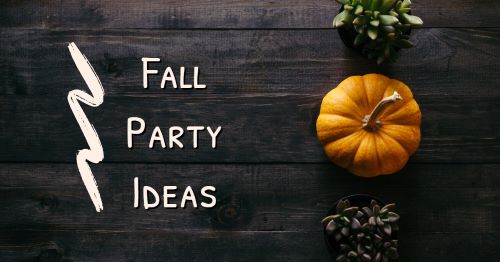 There's much to celebrate in Fall. The leaves are just starting to transform into vibrant colors. The air is becoming crisp and chilly. The season is a great time to reconnect with loved ones and get cozy as the weather starts to cool down. If you're in need of fall party ideas to get everyone together at your home, here are some tips to inspire you:
Throw a pumpkin spice party
What would fall be without pumpkins? Host a pumpkin spice fall party to really get in the festive mood. Set up stations for party goers to make their very own pumpkin spiced cider and other treats.
A caramel apple bar is a delicious addition to go with your pumpkin spiced ciders. The warmth of the cider and sweetness of caramel apples is sure to make your taste buds dance with glee.
As everyone enjoys their fall treats, set the tone with decor. A few small pumpkins can be purchased to give out to guests to be painted to make your fall party a blast.
Game night for the win
A little friendly competition is sure to give everyone a great time. Have a night full of jokes and laughter by hosting a game night fall party. Grab those cards and board games, but don't forget to add fall foliage decorations around the space to set the fall vibe. This can include leaves, small pumpkins, pine cones and more.
Host an outdoor movie party
Invite friends to an outdoor movie night fall party. To make your home theater, purchase a portable movie projector and set up a blank sheet to project the movie onto.
You can print out fake tickets to hand to guests as they enter the "theater". This is sure to add to creating an authentic movie going experience.
Provide popcorn and candy as party favors. An entertaining movie plus great snacks is sure to be a huge hit at your backyard bash.
Football season means football party time
Have football fans in your household? Football fall parties are the way to go. Serve traditional football party foods such as hot dogs, buffalo chicken wings and chili to get everyone pumped for the game. If your home has a fire pit, gather around it after the game to chat and enjoy the fresh fall air.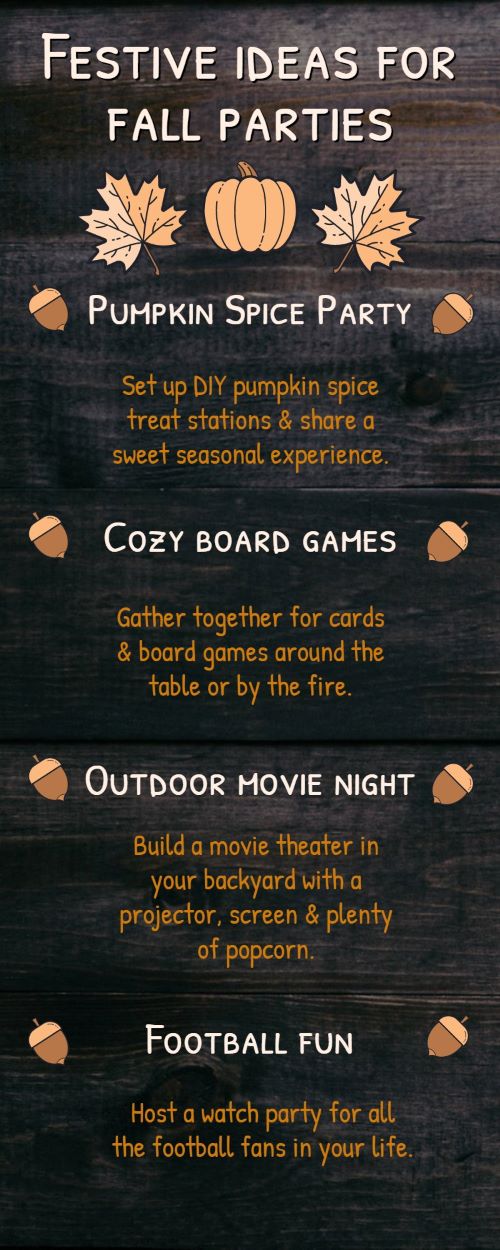 The end of summer doesn't mean the good times are over. Even though life can get really busy in autumn, take time to have fun with your loved ones. Throw a fall party to bring everyone together to start the season right.